News
NRU August College Presentation
Sunday, April 27, 2008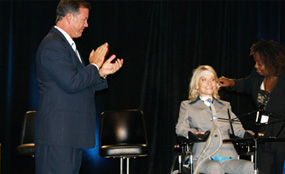 NRU Co-founder and CEO Jim Piccolo, Heather Grossman and her assistant.
Special Guest Heather Grossman, a mother, mentor, survivor of domestic violence, winner of the Ms. Wheelchair Arizona Pageant, and first runner up in the Ms. Wheelchair America Pageant, shared her heart-warming, amazing story of tenacity, unfortunate circumstances, overcoming the odds, and her devotion to changing others' lives. In the spirit of giving back, NRU sponsored Ms. Grossman in the Ms. Wheelchair America Pageant, where she competed against amazing women from across the country.
How You Can Help

Heather Grossman's ex-husband hired a man to kill her in 1997. He was not successful in his attempt to take her life, but the gunshot wound left Heather paralyzed from the neck down. Heather was just 31 years old with three young children. During the years since the incident, Heather's family has been doing everything they can to keep her alive and well, but expenses are high, and they need as much help as they can get.
Since Heather's new website launched on September 21 with the Paypal Donation Options, Heather's family has received donations from quite a few generous people. Please take a moment to see who has donated to Heather's family so far.