My Story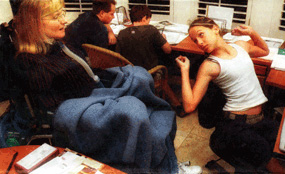 Heather makes time to help her daughter, Lauren, with her homework.
My name is Heather Grossman, and I'm here to motivate you!
I'm a mother, mentor and a survivor of domestic violence. Ten years ago domestic violence forever changed my life and the lives of my family. As the bullet penetrated my spinal cord, it shattered many hopes, dreams and my ability to function as I once did but it did not destroy me or my will to live. Ten years ago my ex-husband, Ron Samuels, hired men to murder me. I died at the scene of the crime but was brought back to life by a paramedic. When I woke up in ICU I could not believe what had happened to me but my will to live sustained me.
Although there is much that has changed in my life, I wake up every morning with a purpose and a list of things to accomplish. I could have chosen to pity myself but my inner-strength and the love for my children gave me a reason to live.
Today I live a full and happy life and I dedicate my time raising my three children, mentoring newly injured spinal cord patients and public speaking. I speak about domestic violence, educating others of the danger, the signs to watch for and how to survive. I am a consultant to the Justice Department OVC in Washington, D.C and speak at their conferences and seminars. In April I received the honor of being chosen Ms. Wheelchair AZ and recently represented Arizona at the Ms. Wheelchair America Pageant in Maryland. I was the first contestant ever to compete who was fully disabled on life support. I won 1st runner-up and also won the Achievement Award.
I feel that my wheelchair has shaped my life because I have achieved so much more than I would have ever achieved if this incident had not happened. It all begins with accountability. Unless you are willing to take absolute control of your life, things will never change. View every situation as another opportunity to learn and to grow. Success and failure are much less important than what you are learning. Actions are powerful. When you get into the habit of doing every little thing to the best of your ability, you will do some amazing things. Many of life's failures are caused because people do not realize how close they were to success when they gave up. I never knew what strengths I had until I was faced with my disability. Success is never final, failure is never fatal but it is courage that counts.
Do not expect life to be fair. Life isn't fair. Make the most of it. There is a reason to smile. Find it, after all you are really lucky just to be alive. Your state of mind determines who you are and what you become so think positive!

How You Can Help

Heather Grossman's ex-husband hired a man to kill her in 1997. He was not successful in his attempt to take her life, but the gunshot wound left Heather paralyzed from the neck down. Heather was just 31 years old with three young children. During the years since the incident, Heather's family has been doing everything they can to keep her alive and well, but expenses are high, and they need as much help as they can get.
Since Heather's new website launched on September 21 with the Paypal Donation Options, Heather's family has received donations from quite a few generous people. Please take a moment to see who has donated to Heather's family so far.

Articles
More Articles »